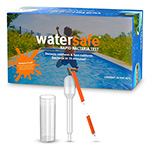 Last year we published a blog entry called Peeing in the Swimming Pool… Americans Admit Doing It and many of you thought we made the whole thing up… but we didn't. Take a look at the following article, published 5/20/2010, and you will understand why we urged, and continue to urge, people to take the matter of public pool testing into their own hands.
For those who opted not to check the link we just posted about how 1 in 5 Americans admit urinating in swimming pools, we ask you to think about the number of times you have waded through a pool and discovered a 'warm spot'.
Granted that warmth may have come from the sun, sure, it could happen, but realistically, you may have just wandered through a patch of human urine before its warmth had a chance to dissipate into the rest of the pool. Gross.
Makes you think, right? It ought to… and it ought to make you think about testing the pool to make sure it has an acceptable pH and free chlorine level before you get in the water!
ARLINGTON, Va., May 20 /PRNewswire-USNewswire/ — Unhealthy pools are more common than you may think. Newly released data from the Centers for Disease Control and Prevention (CDC) underscores the importance of protecting yourself and your family at the pool this summer. The CDC reports a disturbing statistic: About 1 out of 8 public pool inspections conducted in 13 states in 2008 resulted in pools being closed immediately due to serious code violations. The venues that had the most disinfection violations were kiddie/wading pools and water play areas.

Improperly chlorinated water puts swimmers at risk for recreational water illnesses like diarrhea and ear and skin infections. This summer the CDC is encouraging all swimmers to be activists – check your pool water and immediately report any problems to pool staff. Test strips are a quick and easy way to measure if there is adequate chlorine to kill germs and if pH is in the proper range. Swimmers can take action to protect themselves with free pool test kits offered by the Water Quality & Health Council on its website.

"You can't always trust your fellow swimmer to practice healthy swimming habits," said Chris Wiant, Chair of the Water Quality and Health Council. "But, what you can do is test the chlorine level and pH of the water to make sure your pool is properly treated – and immediately approach pool staff if it is not."

Test strips are an easy way to check the water and maintain a healthy pool. When testing pool water, swimmers should be sure that the free chlorine level is between 1.0 and 4.0 parts per million (ppm) and the pH registers between 7.2 and 7.8.

Last year's survey by the Water Quality and Health Council found that one in five Americans pee in the pool. Urine, as well as sweat and even sunscreen, contains nitrogen that eats up some of a pool's free chlorine, making it less effective in fighting off waterborne germs. To ensure on-the-spot protection, it is important to regularly adjust a pool's chlorine levels. ( source )
Scary, right? Can't even take the kiddies, or your own hot self, to the local water spot to take a dip w/o worrying that someone has tainted the water — on purpose 'cuz they're lazy and don't feel like walking alllllll the way to the bathroom OR because someone failed to heed the warning of 'do not go swimming if you have, or have recently gotten over, diarrhea or some other gastrointestinal disorder'.
In the (un?)likely event that one or both of the types of people swim where you swim, don't you want to know if the water has enough chlorine to kill the bacteria, germs, and other nasties? Don't you want to know that the pool water has a pH level that will allow the chlorine to work properly?
Simple Pool Testing Options?
The Water Quality & Health Council has an offer of free test strips out there, so naturally we suggest jumping on THAT opportunity.
Free test strips always sounds better than having to shell out a few bucks. But let's just say, for argument's sake, that you DID have to pay for free chlorine and pH test strips… what would they cost?
Not a whole lot, actually. Right now you can pick up a pack of 50 test strips that test for free chlorine, pH and total alkalinity for around $10 (including shipping) at the The Water Test Kit Store.
For those who don't trust test strips and would prefer to re-live old chemistry class moments and prefer to use 'wet kits' that use drops of reagents, don't worry, they still make basic Liquid Pool Test Kits that test for more than just the basic pool water parameters.
Regardless of how you look at it, in the end the safety of you and your children at the pool will ultimately come down to the quality of the water and in out opinion, if nationally recognized agencies suggest testing, well, we will heed their suggestions dutifully.
– - – - –
Testing for bacteria in pool water? Yep. You can do that, too: WaterSafe Pool/Spa Bacteria Test Kit ought to do the trick.